In the last couple of blog posts, we spent time reviewing the challenges of keeping up with exercise before the advances of the Fitbit, Nike Flue-band,  and the Jawbone. Without this devices calories, heart rate, and miles run were just a guessing game. Last post we discussed how these wristband workouts effect the world of exercise. This new technology allows for all these elements to be compacted into one space and with that it, may even be more accurate.  Today we'll finally be talking about the star product of the wristband entirety – the Fitbit.
The Fitbit was created in 2007 by James Park and Eric Friedman yet
the , ever so popular Fitbit Flex was not released until May of 2013. Up until this point, one of the Fitbits was a device that users would clamp onto their clothing and was named the Fitbit Ultra. This product collects data by a three-dimensional accelerometer system. In other words, it tracks motion, as well as the intensity of that motion. It also tracks the elevation which is incredibly important since the information of running bleachers is extremely different then taking a walk down a flat street. According to Chandler, "the base station charges your FitBit's battery, and every time you pass within about 15 feet of it, the FitBit transfers more of your activity data". Thefore, this device allows you to place this information on your laptop or even a smart phone!
The Fitbit has since evolved from a exercise track connected to your clothes to a exercise tracker a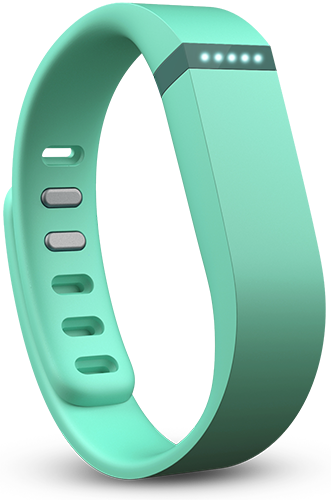 ttached to your wrist! The Fitbit Flex offers an abundance of new information storage, sensors, and media outlets that just makes the life of a gym-going so much easier. For example, this product can be strapped around your wrist. People never have to worry about there devices falling off their clothes while running on the treadm
ill or the inconvenience of the product getting in the way while crunching and squatting! When comparing the Fitbit to our old tracking systems, they simply do not compare. Writing down calorie intake was never as accurate as people wished, calculating a heart rate was never as simple as the nurses made it look, and tracking your sleep was simply impossible. This technongly is an innovation that allows for simplicity, convenience, and accuracy.
A article written by Nick Broughall explain why and how the Fitbit Flex tracks your daily routines. He states that the Flex has 5 LED lights that light up throughout the day which can be activated with a simple double tap. Located above these LED lights is a small clear band that allows the user to see their progression while wearing the wristband. However, there's something about this product that was able to set itself aside from the competitors. The Fitbit Flex offers users the option to have their exercise information sent directly to their mobile phones. This eliminates the hassle of taking apart the device, plugging it into your phone, and waiting for all the data the sync. Instead, the Fitbit will occasionally "wake up" and transfer the data for you! Fitbit has an app that is available on  several platforms. According to the app's description on iTunes the user is allowed to track activity, record workouts, log food, monitor heart rate, manage weight, set goals, track your sleep, and even compete with your fellow gym-goers! All the information you need about your health and exercise is all in one place. No more need to need a journal with your meals, use the timer on your phone to track workouts, or use a planner to set your goals. This app does it all for you. Check out this quick video made by Tesco Tech to see exactly how this  wristband and app work: Youtube.
With all of these options that come along with the purchase of the Fitbit, what are people actually using it for? After searching the web and interviewing friends, here are some responses:
Since wearing the tracker I've been sleeping more – and I feel that I've been sleeping better. Before using the Flex I'd been down to about five to six hours a night. And my sleep efficiency for the last two weeks has risen to a pretty stellar 94%. 

– Nick Statt (http://readwrite.com/2013/06/14/can-a-fitness-tracker-really-change-your-life-part-two/)
Having a device on my wrist makes me more aware of what I am eating and eve
n changing my mind set. Instead of taking the bus around campus, I walk to my classes to reach my step goals. I rally like how it notifies me when I have completed the goal and even how man
y calories I have lost from it!

-Eric
My caloric intake is about 1700 calories in a day, and throughout the day I try to plan my meals so that I would not go over my 1700 calorie limit. But now that I have my Fitbit Ch
arge HR, there is a setting where I can record the calories burned, heart rate, steps taken, and how many miles and flights of stairs I climbed. Now having the Fitbit I can add in my calories burned into MyFitnessPal so that I am able to consume more calories while still meeting my goal for calories or even having calories left over.

-Andy
So how popular is this revolutionary wristband device? According to DMR Stats and Gadgets, as of November 2015 the Fitbit has 19 million registered users and 9.5 active users. As we can see there is a large population of people that have a registered device but do not contribute to actually using the Fitbit on a daily basis. However, it is important to note that just prior to 2015, Fitbit only had about 10.9 million users and only 6.7 active users. Therefore, the number of users are increasing dramatically as the years move forward (Goode). Along with this, the company's share of wearable tech is 34.2%. The Fitbit is continually growing as a product and dominating the market. Will you hop on this fitness train?
http://www.techradar.com/us/reviews/gadgets/fitbit-flex-1124344/review
http://electronics.howstuffworks.com/gadgets/fitness/fitbit2.htm
http://www.theverge.com/tech/2015/8/6/9110035/fitbit-fitness-tracker-watch-active-users-sales